Need to Know
Top 25 Things to Know About Istanbul Before Your Trip
Istanbul is a city that has captured the hearts of many travelers worldwide. With its rich history, stunning architecture, and vibrant culture, this fascinating city has no shortage of things to see and do.
In this blog post, we'll share 25 things to know about Istanbul that every visitor should know. From the best first time to visit the top attractions and local customs, we've got you covered. So whether you're planning your first trip to Istanbul or looking for some insider tips, read on to discover everything you need to know about this enchanting city.
Top 25 Things to Know about Istanbul Before You Arrive
1. Weather
In summer, Istanbul is hot and humid and in winter it's rainy and grey; you should also consider the possibility of snow. Summer temperatures can reach 80-90 Fahrenheit (30 Centigrade). Local people often escape to the islands and you should too. If you've chosen to visit in the summer don't forget your sunscreen and sunglasses. Winter months can be warm, rainy or snowy so be prepared for any weather. Since Istanbul is a big city and connects two continents you should also be prepared for different climates on the same day.
2. Accommodation
On your first trip to Istanbul, you should consider hotels in the Eminönü district. This area is most advantageous both for walking to the tourist attractions and for visiting other areas via the sea. If you're going to Istanbul to experience the nightlife, to see the most beautiful attractions and to eat in the most popular Taksim restaurants, you should look for the area.
Sultanahmet, Karaköy, Üsküdar and Haliç are other popular areas for accommodation in the city.
3. Istanbul Airport
Havaist, IETT and Istanbul Travel buses offer services to passengers who are looking to get to Istanbul Airport via public transport. Havaist operates luxury transport services with baggage, at 44 stops on 12 separate lines. Providing city integration 24/7 from Istanbul airport, Havaist runs reciprocal flights at 15 to 40-minute intervals.
Istanbul Airport offers a taxi service that operates 24/7; vehicles operate in 3 different segments: black colour "E", blue colour "D", and orange colour "C".
4. IstanbulKart
Buy an Istanbulkart for 25 Turkish Lira to travel the city by public transport. You can obtain your Istanbulkart from markets, ticketing machines and automatic filling machines.
Istanbulkart is the only payment method in use for public transport from Istanbul airport. In addition to its fast and secure payment making it easy to use public transport, you can also use your Istanbulkart in Ispark car parks, iTaksi, IBB social facilities, Beltur cafes and restaurants, grocery shopping, city beaches and toilets.
5. Adapter
Turkey uses an F-Type plug socket, also used in Europe, Russia and the UK. If you're coming from anywhere else you'll need an F-Type adapter for charging or using your electronic devices.
6. Water
The quality of tap water varies from region to region but is not used for drinking purposes anywhere in the country. However, it's okay for cooking, boiling for tea and brushing your teeth – as long as you don't swallow it. Filtration systems are in place in major cities, but local people still don't drink tap water.
7. Food
It's a fact known across the whole world that Turkish cuisine is rich and delicious, so don't be surprised to find that restaurants are packed with people waiting to taste Turkish delicacies.
You should taste döner, kebab, içli köfte (meatball), mantı, lahmacun, menemen, stuffed vine leaves, appetisers, baklava, kunafah and of course Turkish coffee.
8. Places to Visit
The most important sites on our list of places to visit in Istanbul are the historical buildings. Hagia Sophia, considered the most magnificent structure of the historical peninsula, Topkapi Palace, which witnessed the might of the Ottoman Empire and Dolmabahçe and Beylerbeyi (palaces of the last periods of the Empire) is evidence of the city's rich history.
While the Grand Bazaar and the Egyptian Bazaar are the first places that shoppers have visited in the city for hundreds of years, the streets of Soğukçeşme are a must for travellers interested in civil architecture due to its beautiful houses.
Apart from these, we also highly recommend the Basilica Cistern, Yıldız Palace, Galata Tower, Maiden Tower and Rumeli Fortress as important historic buildings to visit in Istanbul.
9. Museums
Valuable pieces brought from the continents ruled by the Ottoman Empire in the past are displayed alongside artifacts discovered in Anatolia at the Istanbul Archaeological Museum. Istanbul Museum of Modern Art is the first modern art gallery in Turkey and one of the most interesting places of its kind.
If you are an art lover you should visit Istanbul Archaeological Museum, Istanbul Maritime Museum, Turkish and Islamic Works Museum.
One of the best ways to make the most of your time in Istanbul is by purchasing a Museum Pass. This convenient card grants you access to many of the city's top attractions, including museums, palaces, and archaeological sites. With the Museum Pass in hand, you can skip the long ticket lines and dive straight into the cultural treasures of Istanbul.
10. Stray Cat & Dogs
You may not see stray cats and dogs in the streets where you come from but there are many of them in Istanbul. These animals are generally fed by people in the neighborhood or by the municipality.
There is even a statue of a stray cat in Istanbul, where stray animals are welcomed with love. In fact, the statue is of a famous street cat Tombili. You can visit the statue in Kadıköy, Istanbul.
11. The Blue Mosque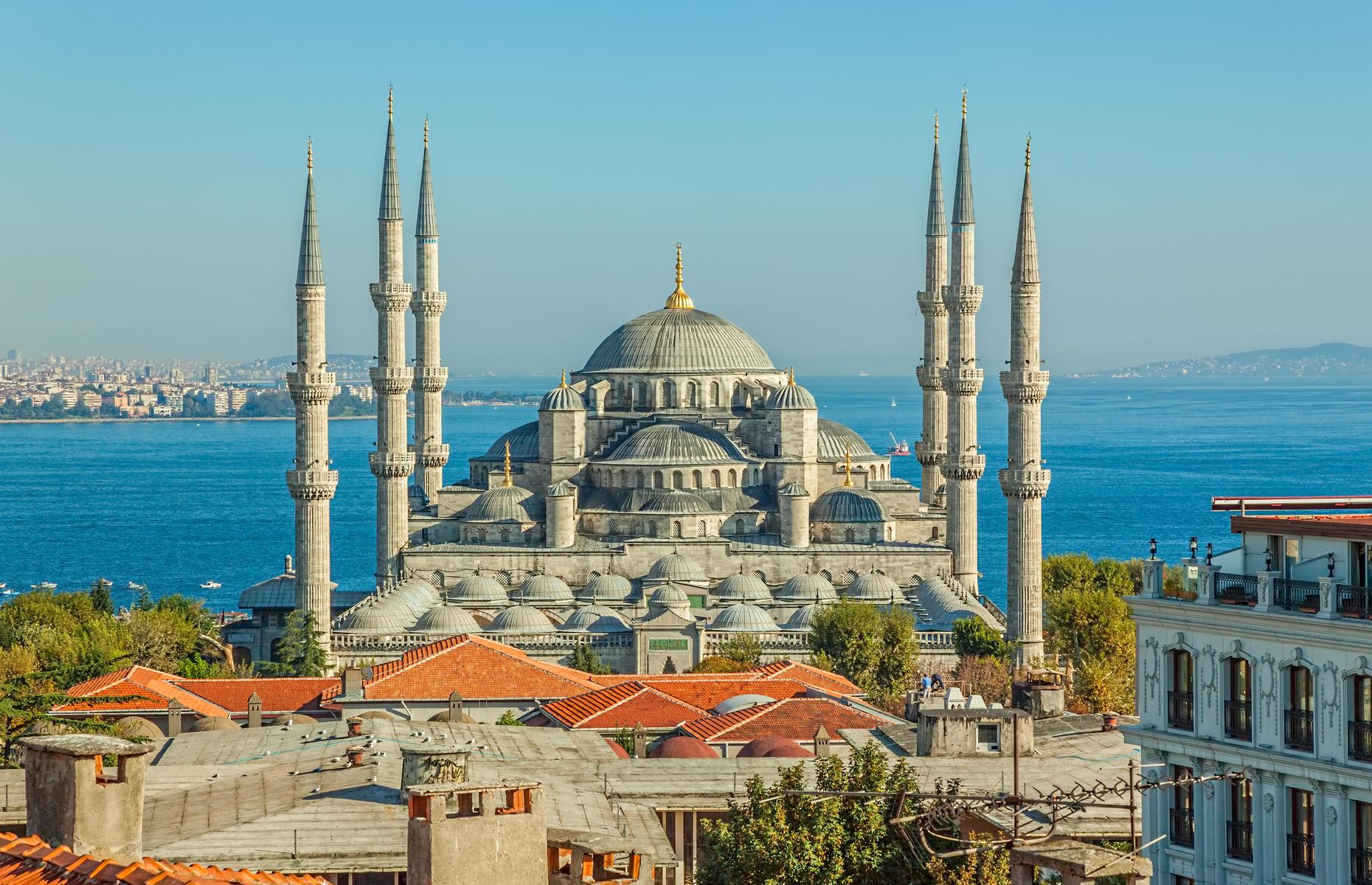 Up to 70% Discount on your trip to Istanbul!

Don't let a tight budget hold you back from exploring all that Istanbul has to offer. Discover unbeatable deals and discounts discover unbeatable deals and discounts on hotels and tours that will help you create unforgettable memories without breaking the bank.
The Blue Mosque is one of the most iconic landmarks in Istanbul. Also known as the Sultan Ahmed Mosque, it was built during the early 17th century and is famous for its stunning blue interior tiles, which give it its name. The mosque is still an active place of worship, so visitors must dress modestly and remove their comfortable shoes before entering. With its impressive architecture and rich history, a visit to the Blue Mosque is a must for anyone exploring Istanbul.
12. Cruising the Bosphorus
Cruising the Bosphorus is a must-do activity when visiting Istanbul. The Bosphorus Strait is a narrow waterway that separates Europe and Asia, and moving along, it offers breathtaking views of the city's iconic landmarks, such as the Dolmabahce Palace and the Ortakoy Mosque.
Whether you choose a daytime or sunset cruise, you can witness the beauty of Istanbul's skyline from the water. Some cruises include stops at charming fishing villages, allowing you to immerse yourself in the local culture and sample delicious seafood.
13. The Galata Tower
The Galata Tower is one of the most iconic landmarks in Istanbul. Standing tall at 67 meters, this medieval stone tower offers breathtaking panoramic views of part of the city. Originally built as a watchtower in the 14th century, it has served various purposes throughout history, including a fire lookout tower and a prison.
Today, visitors can climb to the top of the Galata Bridge and enjoy stunning vistas of Istanbul's skyline, including sights like the Bosphorus Strait, Sultanahmet Mosque, and the Golden Horn. It is truly a must-visit attraction for anyone exploring Istanbul.
14. Take the Ferry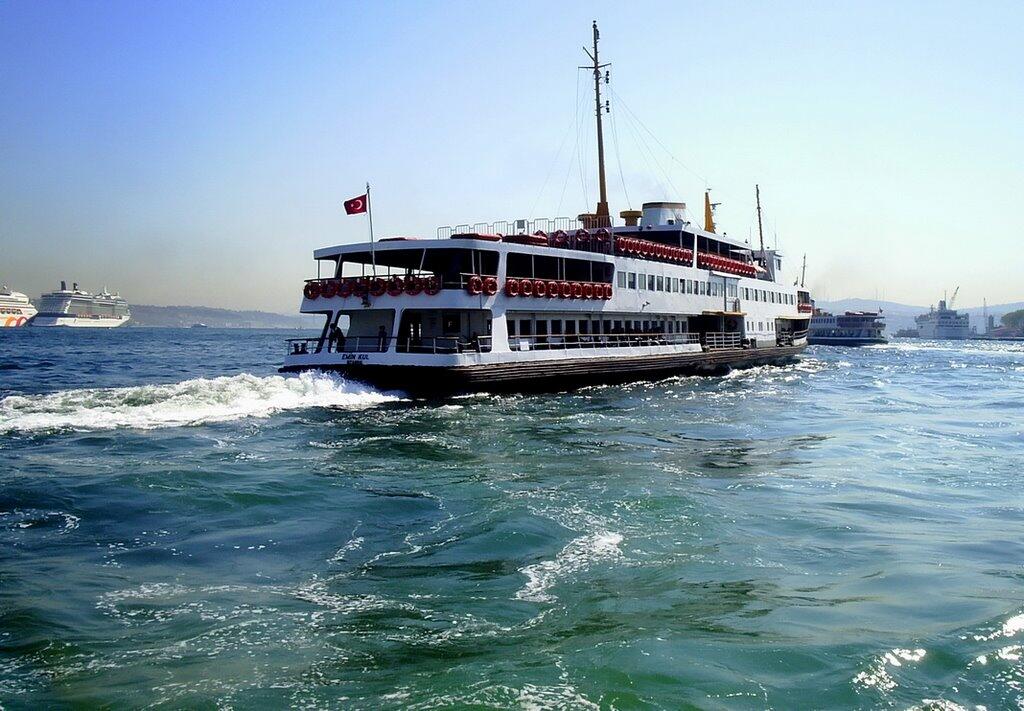 One of the best ways to explore Istanbul is by taking the ferry. These ferries not only offer a scenic and enjoyable ride along the Bosphorus Strait, but they are also an affordable and convenient mode of transportation. You can hop on a ferry at various ports throughout the city and visit popular destinations such as the Asian and European side of Istanbul or the Princes' Islands.
The commuter ferries provide a unique perspective of the city, allowing you to take in breathtaking views of iconic landmarks like the Hagia Sophia and Topkapi Palace from the water. Don't miss out on this memorable experience when visiting Istanbul!
15. Istanbul Cafes with the View of the Bosphorus
When in Istanbul, make sure to visit the charming cafes that offer breathtaking views of the Bosphorus. These cafes provide the perfect setting to relax and indulge in delicious Turkish coffee or tea while enjoying the stunning scenery. Whether you're looking for a romantic spot for a date or a peaceful place to unwind, these cafes will surely captivate you with their mesmerizing vistas.
Imagine sipping your drink while gazing at the shimmering waters of the Bosphorus, watching boats sail by, and taking in the beauty of Istanbul's architectural wonders like the Ortakoy Mosque or Dolmabahçe Palace. It's a serene experience that will leave you unforgettable memories of Istanbul.
16. There's more to Turkish food than a kebab
Knowing there's more to Turkish food than just kebabs is essential when exploring Istanbul. Turkish cuisine is rich and diverse, offering various flavors and dishes. From delicious mezes (appetizers) like dolma and börek to delicious desserts like baklava and Turkish delight, the culinary scene in Istanbul is a true delight for food lovers.
Don't miss the opportunity to try traditional Turkish dishes such as manti (Turkish dumplings), pide (Turkish pizza), and lahmacun (Turkish flatbread topped with minced meat and vegetables). Exploring the local cuisine will indeed highlight your trip to Istanbul.
17. Apps
When visiting Istanbul, it's essential to know about the various taxi options available, including Uber and other taxi apps. These apps provide a convenient and reliable way to hail a taxi in the city. With just a few taps on your smartphone, you can easily book a ride and track its arrival in real time.
Using these apps also eliminates the need for haggling over fares or worrying about language barriers. It's a hassle-free way to navigate through Istanbul's bustling streets and reach your destination comfortably. Make sure to check Must-have Apps for Istanbul before your trip!
18. Visa
When planning a trip to Istanbul, one crucial thing to know is that you should not show up without a visa. Turkey requires most visitors to obtain a permit before entering the country, even for short stays. While some nationalities are eligible for visa-free travel insurance or visa on arrival, it is always best to check the specific requirements based on ethnicity.
Applying for a ticket in advance will save you from any last-minute complications or potential denial of entry at the airport. Ensure you have your access sorted before you embark on your journey to beautiful Istanbul.
19. Taksim
If you're planning a trip to Istanbul, you should know a few things about Taksim. Taksim is one of the city's most vibrant and lively districts, known for its bustling streets, shopping opportunities, and vibrant nightlife. It is home to iconic landmarks like Taksim Square and Istiklal Avenue, popular gathering spots for locals and tourists.
Additionally, Taksim offers a wide range of dining options, from traditional Turkish cuisine to international flavors. Whether you're interested in exploring historical sites or experiencing the city's energetic atmosphere, Taksim is worth visiting during your time in Istanbul.
20. Wi-fi
When traveling to Istanbul, it's important to have access to Wi-Fi. Fortunately, the city offers a variety of options to help you stay connected. Many hotels, restaurants, and cafes provide free Wi-Fi for their customers, allowing you to easily access the internet and communicate with loved ones back home.
Additionally, there are numerous public Wi-Fi spots throughout the city, such as in parks or near popular attractions. If you prefer a more reliable connection, you can also consider purchasing a local SIM card with data plans that suit your needs. By staying connected, you can easily navigate through the city using maps.
21. What to Pack For The Trip
Scarf: Essential if you plan to visit any religious sites. There are no rules on dress in the city, but visitors to religious areas are not permitted to wear strappy tops, short shorts or short skirts. When you enter a mosque you should wear a scarf to cover your head.
Waist Bag or Small Messenger Bag: A waist bag or small messenger bag will help to avoid being pickpocketed while walking through crowded bazaars.
Comfortable Shoes: You'll be doing a lot of walking so we recommend wearing comfortable shoes. Remember some streets are cobblestone so make sure you have appropriate soles.
Earplugs: As you're probably not used to it, your sleep may be interrupted by the sound of the call to prayer in the early morning. For this, earplugs are a good idea.
Raincoat: In addition to protecting yourself from rain showers you can use it to cover your shoulders when entering mosques.
Bikini: You can take a bikini to wear in the hammam (optional)
22. Average Prices For Everyday Payments
Prices vary depending on where you are in the city. Even in the popular tourist areas such as Sultanahmet, Taksim, Galata, etc., you'll find prices vary significantly, so it's best to check before ordering food.
Don't forget to barter when buying souvenirs or clothes. Some traders increase prices for tourists so don't shop without bartering, especially in tourist places such as the Grand Bazaar.
The price of accommodation varies from neighborhood to neighborhood. Hostels can be 20 euros per night for 2 adults. If you want to rent a flat, you'll normally pay a monthly rental fee. The price of mid-range hotels around the tourist zones, eg Taksim, Sultanahmet is usually moderate. Check out Agoda or Trivago to find accommodation options to suit your budget.
23. How to Travel Fast Around City
Instead of taking a taxi in Istanbul, you can use public transport, especially the underground. The most enjoyable journey between the continents is by ferry or boat. We suggest you buy an Istanbulkart, which can be used on all public transport systems as well as Ispark parking lots, iTaxi, city beaches, and toilets and city bikes.
24. Useful Turkish Phrases
Turkish is a phonetically simple language and most words are pronounced exactly as they're spelt. But there are some unique letters.
"ğ" is in most cases a silent letter. It has a special sound to it when pronounced. (The closest would be the "r" sound in French, but ğ is not a guttural letter.)
E.g: Sağlamak (sa:lamak – to provide)
Ağaç (a:ch – the tree)
Here is the list of the pronunciation of some letters in Turkish:
a – car (pronounce it like "a" in this word)
c – jam
ç – chat
e – ever
h – half
ı – cousin
i – tea
ö – first
r – role
ş – shore
u – wood
ü – fruit
During your stay in Turkey, you will need some Turkish words and phrases. Idioms you might need the most are as follows:
Prompts
(In a shop) Can you help me?
Bakar mısınız? (In a shop)

Yardım eder misiniz? (When you need help)

May I have (e.g. water)?
(Su) alabilir miyim?
Do you speak English?
İngilizce konuşuyor musunuz?
How are you?
Nasılsın?
How much is it?
Ne kadar? (or Kaç lira?)
I can't speak Turkish
Türkçe bilmiyorum
I'm fine
İyiyim
Please speak more slowly
Lütfen, daha yavaş konuşur musunuz?
Pleased to meet you
Memnun oldum
See you soon
Görüşmek üzere
Where is/are……?
Nerede …..?
In Case of Emergency
| | |
| --- | --- |
| Accident | Kaza |
| Call an ambulance! | Ambulans lazım! |
| Diarrhea | İshal |
| Doctor | Doktor |
| Fever | Ateş |
| Fire! | Yangın! |
| Headache | Baş ağrısı |
| Help! | İmdat! |
| Hospital | Hastane |
| Medication | İlaç |
25. Best Souvenirs to Buy
Nazar Boncuğu (Evil Eye): Available in all souvenir shops. According to ancient beliefs, evil eye beads keep bad energy away from your home.
Ceramics: You'll find ceramic bowls of all sizes decorated with hand embroidery and special patterns.
Soap: If you visited the hammam you might want soap and towels as a souvenir. You can buy these from anywhere in Istanbul. Visit the shops on Sultanahmet Street to buy traditional towels (Peshtemal).
Glass Lamps:  Each glass lamp is unique. Each one is of a different colour and beauty and has its own design. Visit İstiklal Street and Grand Bazaar to buy a lamp, and don't forget to barter.
Carpets&Rugs: For hand-woven carpets and rugs, visit the shops in Sultanahmet, the Grand Bazaar and the surrounding area. Don't buy without bartering and visiting a few different shops.
Whether you're interested in ancient history or modern art, this pass will save you time and money while allowing you to explore Istanbul's rich heritage at your own pace. Don't forget to check out the participating locations and plan your itinerary accordingly.
FAQ
What are the things to know about Istanbul?
There are many things to know about Istanbul, including its rich history, diverse culture, delicious cuisine, stunning architecture, and bustling markets. Visitors should also see the city's transportation options, currency exchange rates, and dress codes for visiting religious sites.
What should you know before going to Istanbul?
Before going to Istanbul, you should know a few key things. Firstly, it's essential to know the visa requirements for your nationality. While some races may be eligible for visa-free travel or visa on arrival, it is recommended to check the specific requirements beforehand. Secondly, familiarize yourself with the local customs and traditions to ensure respectful behavior during your visit. It's also important to know the transportation options available in Istanbul, such as the efficient metro system and iconic ferries along the Bosphorus. Additionally, being aware of the local currency exchange rates will help you navigate financial transactions smoothly. Lastly, understanding the dress codes for visiting religious sites is crucial, as modest attire is often required. By being prepared with these key details, you can make the most of your trip to Istanbul and have a memorable experience.
Is Istanbul friendly to tourists? Are they speaking English?
Istanbul is generally considered to be a friendly city for tourists. The city is known for its warm hospitality and welcoming attitude towards visitors. Turkish people are known for their friendliness and helpfulness, and many locals in Istanbul are accustomed to interacting with tourists. However, as with any popular tourist destination, exercising caution and being aware of your surroundings is always important. It is advisable to take common-sense precautions such as keeping your belongings secure, avoiding isolated areas at night, and being cautious of scams or tourist traps. Overall, Istanbul offers a rich cultural experience and a friendly atmosphere for tourists to enjoy.
Is four days enough for Istanbul?
It is possible to see some of the main attractions in Istanbul in 4 days, but it may feel rushed. Istanbul has a rich history and many interesting sights to explore, so if you can spend more time, I would recommend it. Within four days, you can visit famous landmarks such as the Hagia Sophia, Blue Mosque, Topkapi Palace, and Grand Bazaar. You can also take a guided tour of the Bosphorus or the Spice Bazaar. However, remember that Istanbul is a sprawling city with heavy traffic, so getting around and seeing everything you want may take longer than expected. Suppose you're short on time but still want to experience Istanbul. In that case, I recommend carefully prioritizing your must-see attractions and planning your itinerary to maximize your limited time.